A Certified Pre-Owned Mercedes-Benz is so much more than a "used" car. It is a pre-owned vehicle built by a company famous for its engineering triumphs, its racing heritage, and its commitment to luxury, quality, reliability and safety. The Mercedes-Benz Certified Pre-Owned Program represents all the virtues you expect from Mercedes-Benz, including exceptional service! Click Here to Download Certified Pre-Owned Overview Brochure.

Certification Process
To qualify for Pre-Owned Certification, a Mercedes-Benz vehicle must meet stringent criteria and pass a rigorous inspection. See below for list for the Mercedes-Benz Pre-Owned Certification process. Click Here to Download full list of Multi Point Inspection List.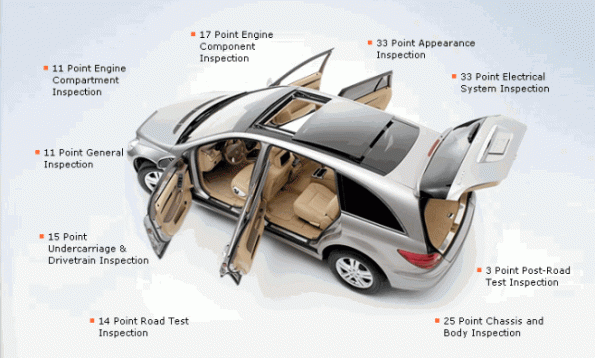 Warranty Information
With every Certified Pre-Owned Mercedes-Benz comes peace of mind, because every vehicle is backed by one of the most comprehensive pre-owned vehicle limited warranties available. For starters, any remaining portion of the Mercedes-Benz four-year/50,000 mile New Vehicle Limited Warranty applies to the vehicle. After that, MBCPO Limited Warranty provides comprehensive vehicle for another 12 months, or up to 100,000 total accumulated miles.

For those MBCPO vehicles that are no longer covered by the New Vehicle Warranty, the MBCPO Limited Warranty takes effect at the time of delivery. This coverage extends to the engine and powertrain, steering, suspension, brakes (excluding wear of discs and pads), electrical system, climate control system, and more! Please see your Plaza Mercedes for more details and a copy of the Mercedes-Benz Certified Pre-Owned Limited Warranty.

Service and Support
When you buy a Mercedes-Benz Certified Pre-Owned vehicle, you receive much more than a fine automobile. You also reap the benefits of nationwide customer service and technical support that every Mercedes-Benz owner enjoys. Only a phone call away from 24-hour Roadside Assistance, Sign and Drive service (a free jump-start, flat-tire change with your existing spare, or some fuel for an empty tank), Trip Interruption and trip routing, product and technical information, or anything else related to your Mercedes-Benz. Click Here to Download Certified Pre-Owned Accessories Brochure.

Mercedes Benz Certified Pre-Owned Exchange Privilege
Every Mercedes-Benz Certified Pre-Owned vehicle is sold with a seven-day/500 mile Exchange Privilege. See your Mercedes-Benz Dealer for details. If you are not satisfied, return within seven days/500 miles (whichever comes first), and the authorized Mercedes-Benz Dealer will exchange it with another Certified Pre-Owned vehicle of equal or greater value (if the buyer wishes to pay the difference).

Trip interruption
Part of Mercedes-Benz Roadside Assistance, the Trip Interruption program reimburses you for expenses up to $300 per day for up to three days in the event of a warranty-covered breakdown occurring more than 100 miles from home and causing an unexpected stay overnight. Reimbursement for actual documented meal, lodging and substitute transportation expenses incurred while your Mercedes is repaired.